Slow Feed Netting offers Canadian-made, woven, knotless, UV protected,  Nylon netting for the horse industry to feed using a more natural method of grazing and eating slower for longer.   

Our Story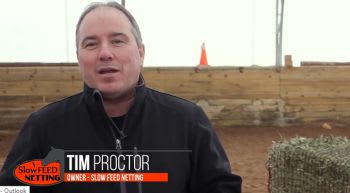 In 2010, Tim Proctor, owner of Slow Feed Netting was approached by a friend with a special request to help with how her horses were being fed their hay. This friend outlined what she was looking for and the concept of slow feeding. Tim then set about creating the hay nets and bags requested and Slow Feed Netting was born. 
As Tim's main company Turf Net Sports Supplies is a leading supplier of netting for the sports industry, he has a superior netting product that is Canadian made and has UV protection - something needed for the nets to remain viable outdoors with the extreme climate changes in Canada and the United States.  
After more research into the Slow Feeding system for horses, the sizes for each of the round bales, square bales and other hay nets and bags were determined and the manufacturing of the nets began.  Slow Feed Netting is now one of the leading suppliers of slow feed hay nets and bags in North America.  The hay nets can be purchased online or via our distributors at a location near you.
Be sure to browse the gallery for photos from Slow Feed Netting customers and also to see some of the custom hay nets completed for the barn owners' unique feeding requirements.  
About Turf Net Sports Supplies 

Turf Net Sports Supplies is the industry leader in netting for golf courses and sporting facilities, also providing netting for municipalities and campgrounds as required. Slow Feed Netting is a division of Turf Net Sports Supplies.