We love to hear from our customers about how much of a difference our slow feed hay nets make. 
Testimonials and Reviews 
Thank you to our valued customers for sending in your testimonials and reviews for all to read, see and view - in the videos. It is greatly appreciated. 
"It's a win/win."
We have used Turf Net Slow Feed nets for many years. They are very competitively priced, are durable, available in just about any size or configuration, and immeasurable in reducing hay waste. Less hay on the ground means less hay expense and the hay isn't getting trampled into the dirt so clean-up is so much easier, especially in the spring - it's a win/win. I highly recommend their product!

~ Kathy, Bear Valley Rescue Society
"They seem happier and more peaceful."
My horses love the slow feed netting. They are in a large pasture outside in Minnesota with 2 feet of snow. They don't get much physical activity. It is a very boring existence looking out at fields of white.  We were feeding them twice a day with loose hay. Now we have the slow feeder. They are entertained all day and it keeps them occupied. They are more content then before. They seem happier and more peaceful. Thanks so much.

~ Heather S.  Cannon Falls MN
"...LOVE our slow feeders!!!"
This is our 3rd year feeding with Slow Feeders....got our round bale feeders from these guys who were great to deal with. Our hay cost has been cut by 1/3 if not more, there are no big piles of wasted hay around our round bale feeders any more, our horses eat as much and as frequently as they like (they just have to work for it a little) and despite the reduced "consumption" our horses are still in great shape. LOVE our slow feeders!!!

~ Dee Dee
"...keeps my horses happy"
I love my slow feed netting feeder. It keeps my horses happy, saves feed, and keeps my feed area neat."

~ Tom Bishop
4B Ranch Wild West Shows
"...it's working so efficiently!"
Ok so I thought I'd report in again on the net……it's working so efficiently! I normally change my bale every 7 days……I went an extra 4 days. That's a big savings in hay and it has been so clean. We are so amazed by this little invention that we just stand and stare at it…..like when you build a barn or paint a wall…..you can't believe how wonderful it looks. I enclosed some pics for you…….one was after a few days and the other was 9 days after putting in. And I figured out when it gets right down, you can flip it and it fluffs it up and gets rid of any excess netting, makes it tighter to the bale again. Great product! Wow! You can use this as a testimonial if you want as well. Thanks again!

~Heidi
"...I give the net 5 stars"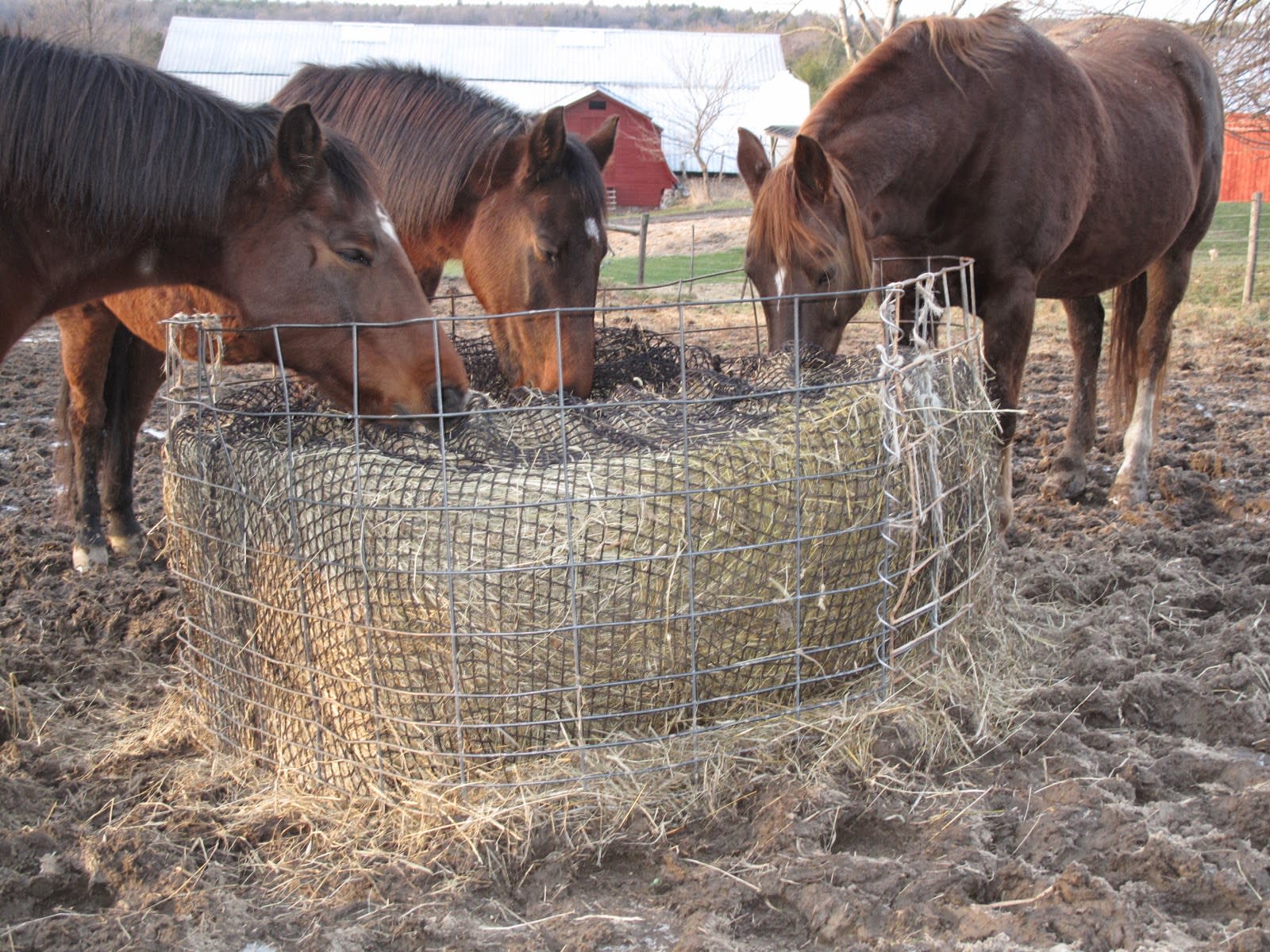 I bought my Slow Feed Net in March, 2013. I was quite apprehensive that it would not work on several levels. After one whole winter using the net, I can only say that I give the net 5 stars. I needed the net because my Morgan horses were getting very over weight on the "all you can eat buffet" They were not wasting a sliver but they were putting on weight with less exercise & all that hay. Once we started using the net we went from 6-7 days to 10-12 days on feeding the round bale. And the boys looked great coming out of the winter last year. No fat & in nice shape. Thanks for such a great product & now I am hoping it will be an A+ for the sheep too.

~Jean Audet Orwell, Vermont
"...recommended your nets to several friends"
We are going into the second year of using the bag & except for some minor repairs it is working out great. My overweight Morgans actually lose some weight in the winter which is a good thing. We call the round bale, "the all you can eat buffet". I have recommended your nets to several friends. Thanks,

~Jean
"...a great product"
I have found them to be very heavy duty and effective. I use mine on large round bales or stacked square bales inside a hay hut for free choice feeding. They are a great product for a good price!

~Cindy Smith
"...I am happy"
Our bags are working well. I have used other bags with which I am not as pleased, which cost me 3x the price, so I am happy to promote your products .

~Hearts Haven Ranch Raymond Alberta
"...you guys offer these nets at affordable prices"
It is so appreciated that you guys offer these nets at affordable prices. Many other companies are two times what you charge and I just can't justify that price point as I can purchase a lot of hay for my horses at over 300 per net. So THANK YOU!

~Cedar Boxers
"...my net is used by 2 ponies, a donkey and a horse"
My net is used by 2 ponies (aka eating machines), a donkey and a horse. They haven't done any damage to my net over the last year and a half. We've even moved the net and bale with the spike on the tractor without doing any damage.

~Susan in Nepean Ont
"...working wonderfully!"
The hay net is working wonderfully! It is giving me an extra three days out of a bale. With three horses on the bale, it is saving me approximately $50/month.

~K Church Merrickville Ontario
"slow feeding approach is great..."
This is my second hay net and I just love the first, which is about a year old and is still in very good condition. I'm going for a larger net and the smaller square size now because my horses had no problem adjusting to the 2" squares and are just a bit plump. This slow feeding approach is great - I've noticed a difference in their ability to focus (no longer so focused on getting fed when I work with them), they're calmer, and had an improved mane & tail/coat quality this summer. I wouldn't, by choice, go back to the traditional way of feeding my horses. I try and tell all my friends how great this way of feeding is (including the additional savings on hay cost due to less waste), and of the quality of your hay nets. I may have to borrow out my first one just so they can see for themselves...

~Sue Apple Valley, MN
"...love the product!"
Need I say more I love the product! Lastly our older horses came out of winter without their usual coughs!

~Jacquie Fehr
"...Sandra's happy horses"
"I have raved about your product and service on Facebook"
Thanks for the fabulous service! Ordered this time yesterday and it has already arrived. I have raved about your product and service on fb. Cheers
~ Carolyn Burke
"... Love, love, love the nets!! "

Here's 4 of the 5 horses eating. Love, love, love the nets!! Makes round bales amazing! No waste and no over eating. Going through a round bale at the same speed that they would eat if I fed 20 pounds per day for each horse. Love not having to feed twice a day!!! Horses are so much happier to graze on their own time, but not get fat!
~ Juliana Bozeman, Montana
"... how happy we are"
Just wanted to let you know how happy we are with your hay nets. I originally brought 4 nets last fall. One from a Texas company, one from a Minnesota company and two from you. Both of the other nets have multiple rips in them that we have tied closed with baling twine. Yours so far yours are rip free! Also my daughter likes the rope better, she says it is easier to close and open plus it stays tied better and unties easier. My daughter puts four bales in these nets every weekend, I decided I should get her two more of the "Good" ones to keep her happy so I wouldn't end up with that chore .
~ Joan Francestown NH
"...great customer service"
Your team has great customer service. Definitely recommending you to everyone I know that wants hay nets!
~Janine Arthur Ontario
"...it's a pleasure"
I keep them all together - and they range from a few pounds overweight to a few pounds under. Moving to the 1 1/4" would penalize the more "slender" ones so think I'll stick with the 2". It's working for us - we'll stick with that for now!
Thanks again for your help today. It's such a pleasure to do continuous business with a company who understands that customer service is the best route to happy customers and ultimately a profitable business! Well done and it's a pleasure to be doing business with you! Best always,
~ Kate Owner and Manager - Creekside Ranch, Stouffville, Ontario
"I love it! Life has changed in one day!"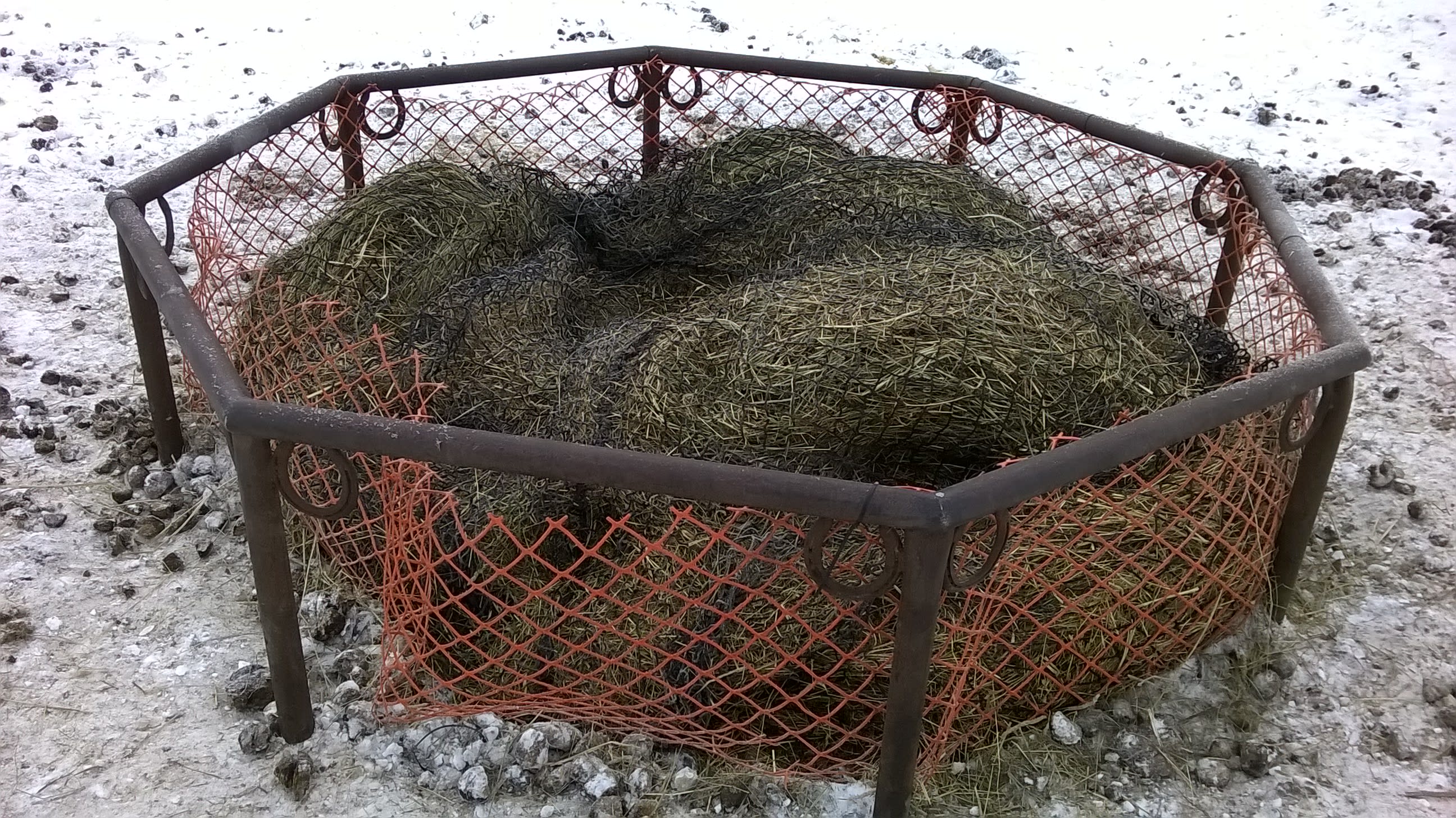 So I put my net on for the first time the other night. It was really easy to use and it was very roomy. My two horses caught on right away….they are the horses who are used to eating hay from a net at the trailer etc. I pulled hay through for them to see. The horse that is overweight hates it! She is going through withdrawals!!! Hahhahhahha She will get used to it. She cleaned up all the hay that was around the feeder…perfect! She wants to be able to eat lots and make a mess! Well that is all over! I love it! Life has changed in one day! Thank you!!!
This horse will surely benefit from this system! She has been diagnosed with laminitis this year and the vet wanted me to put a grazor on her face. I don't like the look of that and I'm always afraid they get it caught in something….this net is going to do the same thing and she can be like the other horses.
Heidi (Sudbury Ontario)
"...great customer service and quick delivery"
I just wanted to let you know the hay nets arrived on time an are working well. Thank you for the great customer service and quick delivery. I will definitely recommend you company and these hay nets!

~Kelly Webb
"...no waste of hay "
Just a short note to let you how much I like the hay bag we recently purchased. I have no waste of hay now as the horses can't throw the hay out on to the ground from the feeder.

~Lauretta
"...great service"
Thank you soooooo much for great service in a speedy time.

~Toni
"...you guys did a great job"
It's funny how they clean up pieces of hay that are dropped now because its easier than working it out of the net. I love that so much less hay is being wasted. And you guys did a great job of making the nets to fit both of my hay racks!

~Kim Klinger Newville, PA
"...it's working out great"
I purchased the 1 3/4" mesh opening large feed bag with a draw string approximately 2 months ago from Slow Feed Netting and it's working out great. Everybody's pretty impressed with how much it slows the horses down in the consumption of their food and how much healthier my horses look.

~Carrie Ont
"...very pleased with the net"
Thank you for checking with us. I started out with a small batch of hay just to see if it would work and to get familiar with how to do it. The black horse, Eisa (which means glowing ashes in Swedish) picked up on it really quick, although I can't say she enjoyed not being able to gorge herself. The bay, Willow, just didn't get it for a few days and so she spent time trying to bite it, paw at it, and kicked it a few times too, lol. But she finally figured it out. The net held up really great with her impatience as there are no signs of any damage. I am very pleased with the net and also thankful you sent extra rope to make the cinch!

~Jesup GA
"My hay consumption went down..."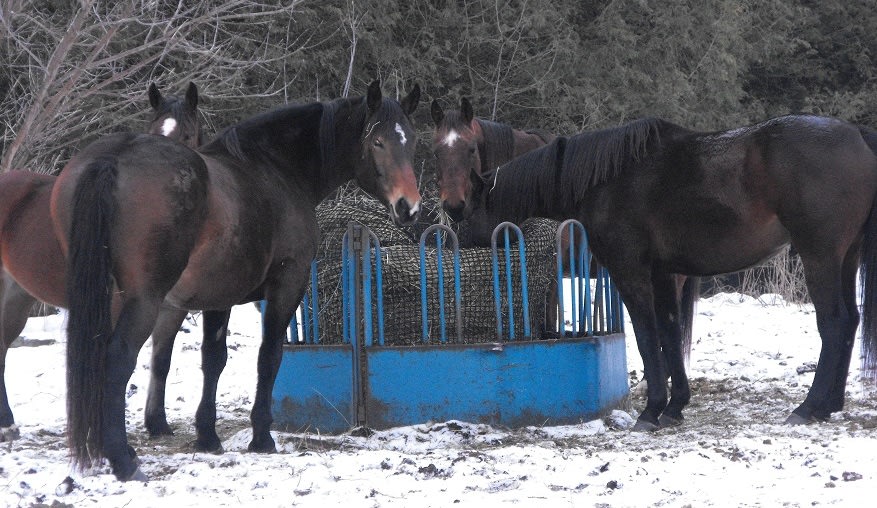 I purchased both types of small mesh netting from Slow Feed Netting.com and used the heavy duty to make a round bale net and the lighter duty mesh to make hay bags that fit a square bale for my stalls. Both nets have stood up well with constant use last winter. A round bale now lasts 5 days instead of 3 with no weight loss in the horses. In fact my thoroughbred did not get the big hay belly he typically gets in winter. My horses did not chew wood in their stalls with hay constantly in front of them, and with no hay waste. My hay consumption went down and whereas I typically have to buy a few round bales in the spring, this year I had hay left over. Thanks you once again.

~Judith Smith Corbyville Ont
"Great service!!"
Thank you so much I can't believe it's here already... Great service!! I will definitely be buying from you and recommending this company to all my horsey friends.. You're awesome. Sincerely
~ Sandy
"...working perfectly"
Thought I'd let you know that my horses had absolutely no problem catching on to using the slow feeder - see attached. It is working perfectly and I cannot believe how little hay is on the ground around their feeder now. Usually the ground around the feeder is covered with hay. What a difference!
~Adele
"...I cannot get over the savings of hay"
Well I am into day 4 of using the new hay net. I am thrilled. I wasn't sure it was going to work out at first but my 3 are now more or less eating together, and I cannot get over the savings of hay. Last time I gave them a 4x4 bale it was pretty well gone by now, and there is still many days of hay left. I also love the freedom that it give me. I should have bought one long ago. Great product Very happy!!!
~ Christine
"...very happy with the savings"
We have been using the netting for 3 years and we are very happy with the savings in feed and no waste.
~Laura Sentineal Carriages
"..I LOVE IT!!!"
Received your Slow Feed Hay Netting yesterday, put it on today and I've attached a picture of each of my (dirty) boys eating out of it today. Between using your Slow Feed Hay Netting and the Hay Hut, I won't be seeing much waste and my hay will last a lot longer now! Thank you for offering this Slow Feeder Hay Net! I LOVE IT!!! Thank you!
~ Joanie Cox
"...working out fantastically well"
Just wanted to let you know that we are on our second bale with your netting over them and they are working out fantastically well. Did not stick to the ground, net is fully intact with no chewed holes in it and it lasted longer than normal with absolutely no waste. Very very pleased - thank you !

~Carolyn Morrison Tranquility Acres
"...saving about 30% in hay per month"
Hi Tim, we've received the second batch of hay nets, and installed two of them on our feeders. We currently have 4 of our 5 feeders changed over, and early numbers on the first two show we are saving about 30% in hay per month. I have tracked bale usage for years so I should be able to tell in a few months how well we are doing. I've included some pics of both the smaller nets and the larger one. We use the smaller one on feeders for horses that come into the barn at night, and the full cover ones for the outdoor horses. I've used zip ties to secure the nets for now, but long term I think I will need to weave twine around mounting points, as the horses tend to break the ties. The nets get stiff in freezing rain, but return to normal once it melts. They are not affected by wind or snow load, so already are working much better than the tarps I tried. Thanks!

~Justin Norell Stubbe Horse Farm
"...so pleased with my purchase"
The nets are working wonderfully and a lot of friends and visitors have asked inquired about getting some. I gave one of my four to my coach and she is ecstatic. I really like the decision to open the sides up a bit since they make the nets so easy to fill while still being able to hang them high enough. I have mine set so the bottom edge is about 3 feet off the ground. I have found that by using the nets I have had aforementioned mare colic less frequently since I am able to keep food in front of her all day. I'm so pleased with my purchase and do plan to get more.. Again, thanks so much.

~Gail
"...great product!!!"
Thanks for the great product!!! Our appaloosas love it we will probably be ordering a few more for winter!

~Crystal Stock Cedar Boxers www.cedarboxers.com
"...little to no waste"
"I love our hay net we have fed 5 have bales in it so far with little to no waste. Everybody looks healthy and it's only costing $10 per horse per week in hay. Wow!"

~Lindsey Bunch
"...I am 100% happy"
A great review of Slow Feed Netting at trentriders.com
"...I save money...my horses are healthier"
"It's changed the way I feed my horses. The system keeps my horses busy eating small amounts of hay with almost no wastage. Not only do I save money, but my horses are healthier and happier."

~Shelley Jones Thoroughbred Owner
"It has saved me so much wasted feed."
I got one of your round bale nets in 2010....I STILL HAVE IT!!! It has saved me so much wasted feed. I am patching a hole weekly (didn't know you had repair twine)...but thats not a big deal. I was looking for a slightly larger one and could not find your contact info, since it had been so long. I ordered a net from another company that literally did not last a day. My round bale is on rubber floor, and barefoot horses that do not paw. The competitor net material was so soft/weak it was a complete waste of money....even in such a safe environment.

~Marybeth