Custom slow feed netting is available to fit your unique feeding system requirements.   

How To Measure for Custom Netting
At Slow Feed Netting we recognized one size does not fit all. Many horse farms have unique feeding systems requiring special nets to allow the use of the slow feed concept for their horses. By following the simple instructions below, you can price the netting you will require. You can always call us for assistance as well at905-892-8787.
Our netting is priced at  $1.19 per square foot 

Disclaimer - Custom Size is for RAW MESH ONLY for people who have their own methods or feeders.
How To Calculate the square footage of the mesh required.
Length x Width = Square Footage
(ex. 2.25' x 3.5' =7.87 sq. ft. or 2' x 4' = 8 sq. ft.)
Call if you would like assistance905-892-8787 or Email us
NOTE: If the calculation boxes are not visible refresh your browser... 
Cost is $1.19 CAD per square foot.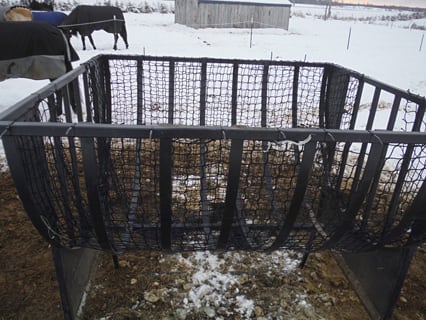 Warranty
30 Day Manufacturer's Warranty on hand sewn seams. Returns/Exchanges within 7 days for new, unused nets. Customer pays all shipping fees. For hygienic reasons, nets are non-returnable once used. Haynets are not indestructible and we cannot control the animal eating from the net. Warranty does not cover damage caused by use, including chew holes or tears in the mesh.

The mesh is not metal and can therefore be torn or chewed, horses are livestock and may chew thru the mesh if not transitioned properly or various other reasons. We do not warranty the mesh/netting, only the craftsmanship of the seams. There is an inherent risk in the purchase and use of these products.
---
Step 1
Enter your required dimensions and click CALCULATE